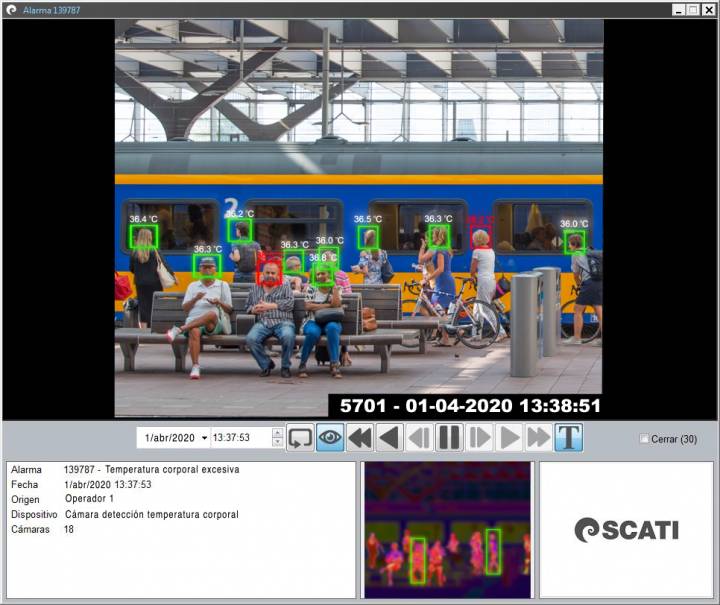 Detecting and identifying people who represent a risk to the rest of the population is essential to avoid the transmission of diseases.
An excessive body temperature, commonly known as fever, is an important indicator to know if a person has an infection and can represent a risk of contagion for the rest of the population.
Identifying infected people is a priority for security officers to protect other users at train stations, airports, malls, corporate buildings, etc.
Thermography systems have intelligent analytics for the identification of people through facial detection, which minimizes false positives. Once detected, they are scanned, measuring their body temperature in up to 10/15 people simultaneously with an accuracy of ± 0.5ºC and at a distance of up to 9 meters in a fast and reliable way.
Through thermography systems, the video system, in a non-invasive way, detects if a person has an excessive body temperature (fever) and sends an automatic alarm to the control center. The operators visualize the thermal and optical image (4 Megapixel) that the camera simultaneously provide, the temperature data and the region of interest on who has caused that alarm, to respond quickly.
The metadata associated with these images are registered through RECKON, SCATI's Business Intelligence solution. In this way, body temperature becomes an essential data source to detect, prevent and anticipate if we are facing a pandemic and activate the corresponding action protocols to prevent its spread.