Given the spectacular growth rate of e-commerce, with increases of 20% per year, the logistics sector is facing an unprecedented digital transformation process where connectivity, immediacy and reputational image are key to being competitive.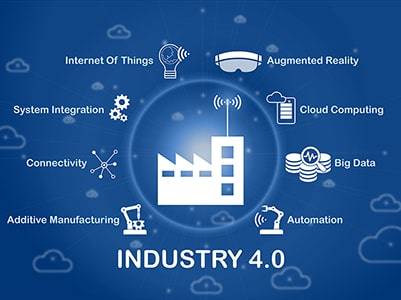 The Industry 4.0 concept implies the technical integration of cyber-physical systems and the use of IoT in industrial processes, until achieving "smart factories" thanks to the automation and digitization of the supply chain.
With millions of daily shipments, warehouses, vehicles, products and people involved, Industry 4.0 requires a change in logistics, so the transformation of one is not understood without the evolution of the other.
However, logistics is a very mature sector with low margins whose only investment in technology is linked to cost reduction.
In this scenario, what happens for example if a merchandise is lost and we lose the trust of large customers?
The following article aims to explain how new technologies and, specifically, the incorporation of Artificial Intelligence in video systems, make it possible for both industrial and logistics companies to overcome the challenges posed by the IV Industrial Revolution.
Therefore, investing in video surveillance systems allows the Security Department to become an internal provider of business optimization tools to improve brand image, enrich the user experience, business excellence and, ultimately, maximize results.
Comprehensive security solutions
Video surveillance systems must guarantee comprehensive security of the supply chain even in strong production peaks, where the incorporation of temporary personnel is triggered. Therefore, it is necessary to have a solution that guarantees the safety of both facilities and merchandise, and that is capable of monitoring processes so that the quality of production is not affected.
Thanks to Artificial Intelligence and Big Data, video surveillance systems are a key piece to overcome any challenge of this new era.
Beyond security, CCTV systems are becoming the essential tool to supervise industrial and / or logistics processes, better allocate resources, guarantee the traceability of shipments, manage and optimize stocks and, a key part in taking decisions of any department of the company.
The integration of video systems with any management system (ERP, Storage Management Systems, etc.), guarantees the total traceability of the goods and the total resolution of incidents with a minimum management cost from the moment the system is implemented.
Along with capturing images, CCTV systems collect and store information associated with each merchandise (tracking number, origin, destination, measures) along with the moments of visual recording of the merchandise.
A quick and direct access to the recorded video associated with each merchandise allows any incident to be resolved in real time, either through the search for metadata, or through plans of the facility itself in any of the distribution centers, since it involves multiplatform systems.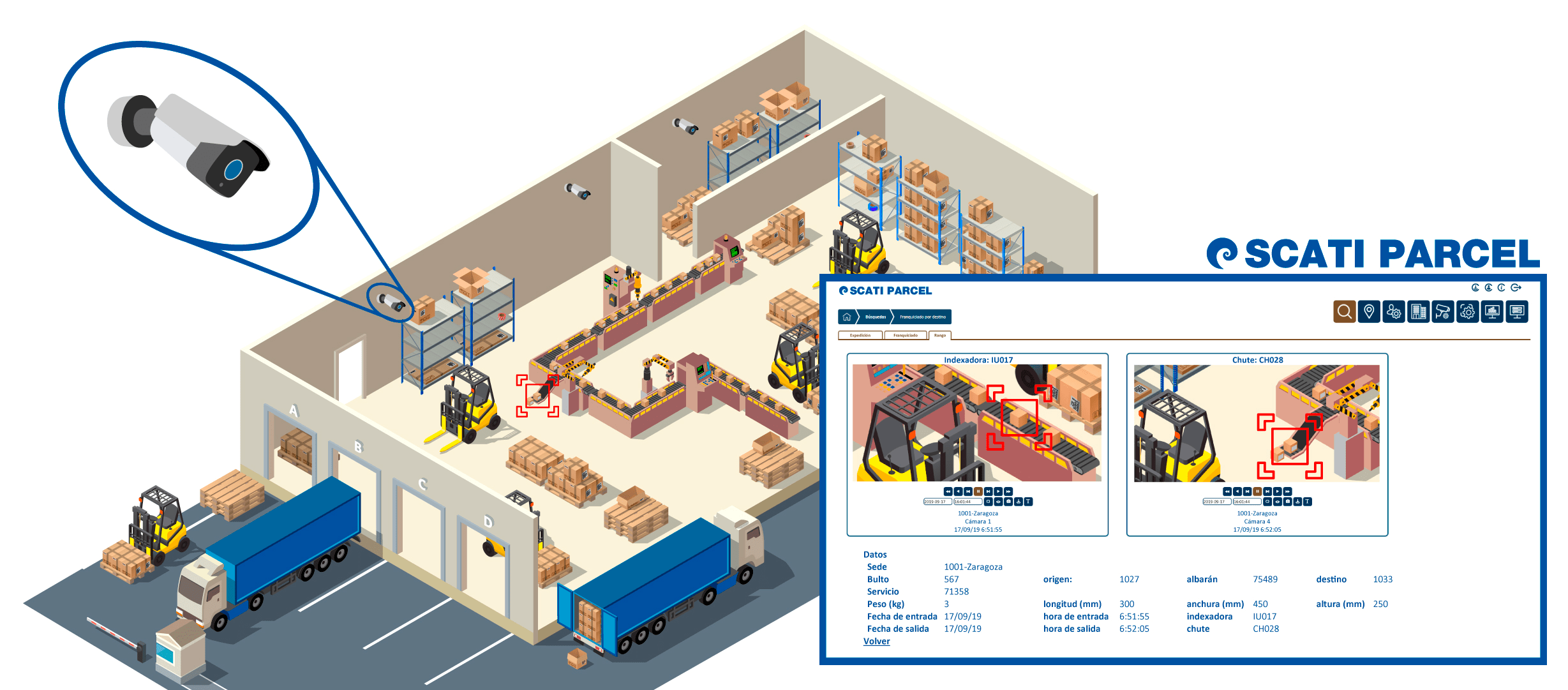 In many occasions it is necessary to control other assets (mechanical bulls, pallets, operators, etc.) that are constantly in motion and that are part of the production process.
Through technology, state-of-the-art video surveillance systems are able to track and locate thousands of mobile assets simultaneously with great precision. In this way, the supervision of these assets in movement, including the work of the operators, becomes a simple task.
Current video systems allow these mobile devices to be located and viewed in real time and automatic alerts to be received in the event that they invade a restricted or dangerous area.
Likewise, thanks to Big Data, we can obtain statistics and information on each asset to measure its productivity, activity level and speed, and even know distances, areas traveled and even the average time spent per area.
All these advances represent a great revolution in the supervision of personnel, optimization of processes and maximization of business profitability thanks to improved procedures.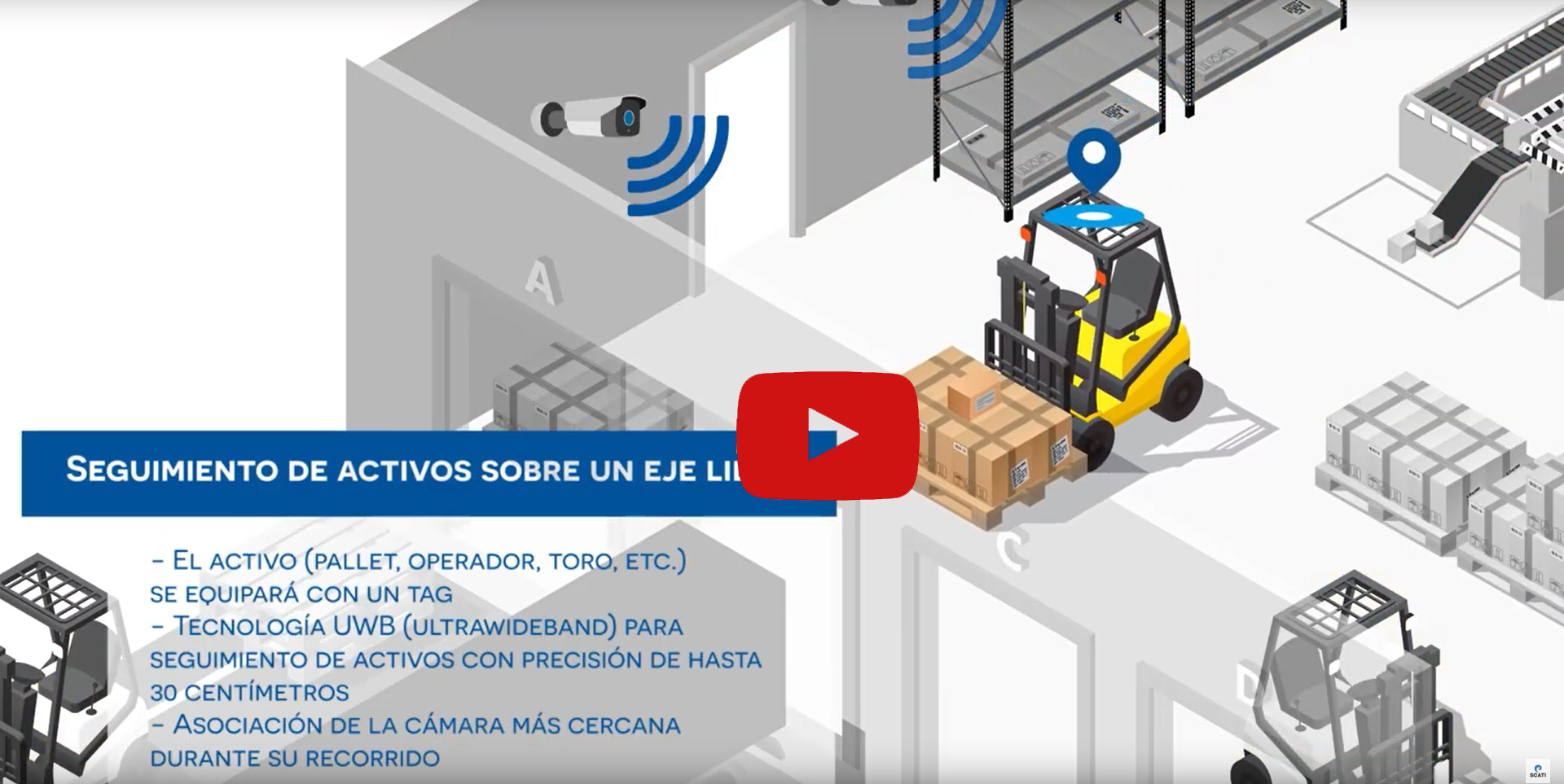 Optimizing and controlling stocks in the omnichannel environment is a challenge that any supply chain faces on a daily basis. The incorporation of deeplearning algorithms allows monitoring and managing shelves and other points of sale in an automated way through the recognition of objects by video systems.
Automate the replenishment and purchasing processes to define the batch, the order point and the adequate safety stock at all times, it is a reality that some international chains are carrying out to optimize the stock of their points of sale.
On-board systems for tranport
Detect and prevent in real time criminal acts carried out by organized gangs through different methods ("loneros", "surfers", "Trojans", etc.) and even, on occasions, by the drivers themselves tempted to steal the goods that transport, are some of the challenges to overcome.
On-board video systems allow real-time viewing and recording of images from any vehicle, as well as automatic download of the video onto centralized storage via 3G / 4G / Si-Fi with guaranteed data transmission security.
Know the real-time GPS position of the vehicles, the history of the routes taken and even warn in real time by means of alarms in the event that the vehicle deviates from the route, leaves its area of influence or exceeds the speed limits, it's possible.
Once again, the incorporation of deeplearning algorithms allows on-board video surveillance systems not only to be a tool that guarantees the safety of the vehicle fleet and the goods transported. The video provides valuable information on the condition of vehicles at all times. Knowing the kilometers traveled by each vehicle, the time spent on a specific route or even the consumption of 3G / 4G data are some of the data that video management tools provide for decision-making in real time.
IP video systems, a business investment
We are facing the IV Industrial Revolution. Offering a complete and comprehensive video surveillance solution has become a "commodity" that all manufacturers should solve.
During this IV Industrial Revolution, video surveillance systems will play a fundamental role in solving problems that are not linked to security: traceability of goods, supervision of vehicle fleets and other mobile assets, optimization of stock, etc.
Through Big Data, we will be able to collect information associated with any image to synthesize it and decrease administration times, streamline daily operations and optimize any business process.
Only those companies at the forefront of technology will be able to successfully face and overcome this new stage.