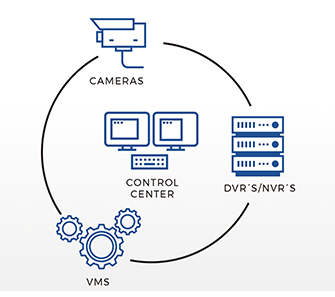 SCATI offer a video management platform, "end to end", which includes cameras, recording platforms, solutions for advanced management and administration of the installation, as well as a series of special solutions for specific sectors.
It is a robust and scalable platform which guarantee the video availability. It is easily integrated with multiple third-party systems and devices in a single solution to centrally manage them.
Its flexibility and custom capability makes SCATI the perfect choice of many companies that look for a solution able to meet their particular needs.
SCATI's Business Intelligent solution offer different video advanced tools that help business decision-making.
Thanks to analysis of a large volume of data in real time, SCATI guarantees 100% the system operation, improves the process and procedures; in other words maximize the benefits of your business.
These advanced tools of video can detect trends and customers behavior, detect selling "hot spots" with the goal of improving customer service, and maximize the sales and business profits.
SCATI RECKON is a solution capable of analyzing a large amount of data, apparently unrelated, generating correlated information, simplified and organized. It allows a clear interpretation of data, improving your decision-making at a business level.
Thanks to SCATI RECKON, the user is able to anticipate facts and decrease response time. That means better client knowledge, detect market trends, and understand and predict behaviors. As the system facilitates the knowledge of the user needs, their preferences and habits, the administrators are able to go a step further in the daily administration and operation of the security system.