SCATI EYE CCTV CAMERAS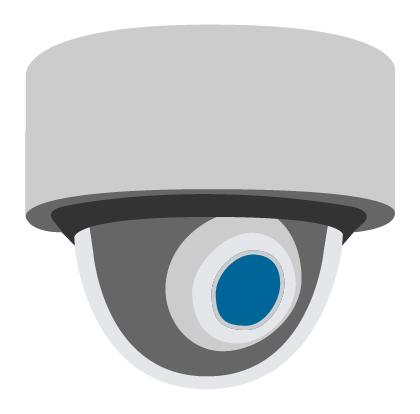 SCATI offers an extensive range of SCATI EYE cameras, which can be adapted to all types of facilities. Thanks to its multiple designs and resolutions, in addition to its H.265 compression format, they are able to offer the best image quality in each scenario, even in low light conditions.
SCATI EYE cameras include from compact cameras with a discreet size and easy installation, to cameras with high positioning speed that allow covering large indoor and outdoor areas with great precision.
SCATI also offers HD analog cameras, which provide high quality video up to 1080p, via coaxial cable. This allows us a quick update image quality without having to replace existing wiring structure.

SCATI EYE INTELLIGENT
This range of cameras offers a variety of analytics embedded in the camera to detect events of interest such as line transfer for perimeter protection, change of scene to detect a sabotage, abandoned object or even face detection.

Deeplearning
Traditional video surveillance has taken a step forward so that cameras are not only used to monitor and control facilities, but also to obtain data that provides intelligence to businesses. Deeplearning is a type of machine learning that trains a machine to perform tasks similar to those of humans, such as recognizing objects, classifying them and even describing their contents. The greater understanding of the images allows facing more complex environments with a drastic reduction of false positives.
SCATI offer a wide range of cameras such as fish eye cameras with heat map, minidome cameras specially designed for queue management, bullet cameras for plate recognition and other specific formats for face recognition or people counting, etc.
At the forefront of technology

Wide catalog of cameras:
Minidome, bullet, box, PTZ, fisheye, pinhole, thermal, face detection, on-board, etc.

High image quality:
Up 12 megapixel, multiple streams, WDR (up to 140Db), anti-fog, integrated infrared up to 500 meters, etc.

Xtreme environments
IK10 (anti-vandalism), IP67 (outdoor), EN50155 (on-board), anti-corrosion, ATEX (explosives), etc.

Latest Technologies
H.264, H.264 ultra, H.265 and H.265 ultra-compression formats, possibility of SD card recording, etc.

Analytics in cameras
Intrusion, line crossing, abandoned object, stolen object, entry/exit area, scene change, face detection, counting, audio variation, video lost, blur, heat map, etc.