Through heat maps, we can know the more or less busy areas of an establishment.
Therefore, a store manager is able to make simple decisions about how to order the point of sale based on traffic and identify the areas to carry out promotional actions.
IP video cameras incorporate deep learning algorithms
Intelligent video cameras incorporate heat map algorithms to identify the busiest areas of a business by average residence time or number of people.
It is possible to define "passage areas" to know the number of people who follow each of the corridors / paths within the establishment, very useful to know the behavior of customers and establish the best combination of furniture or promotion to get the maximum profitability from the deal.
The cameras, up to 12 megapixels, offer a 360º viewing angle to view any image with the highest level of detail.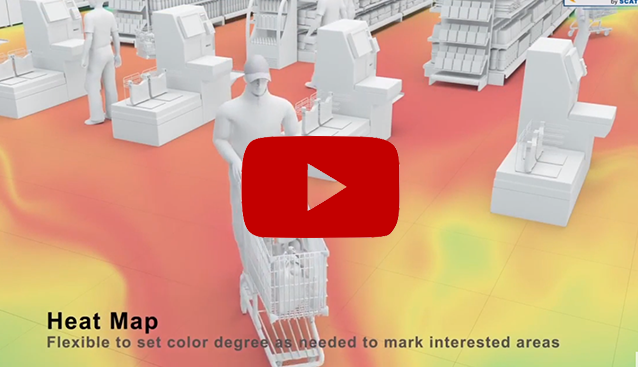 Thanks to Reckon, the SCATI'S Business Intelligent tool, the user is able to analyze a large amount of information in a simplified and organized way through personalized charts and reports.
SCATI's intelligent video solution offers:
Hot and cold spots
Average time per area
Customer behavior analysis
Hours / days of maximum influx by areas
Trends and seasonality
This solution is flexible and scalable and it allows you compare different promotional actions in different establishment to measure its impact.