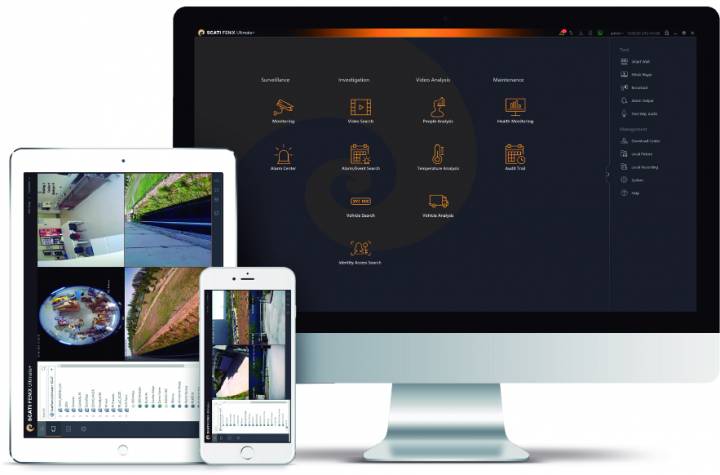 SCATI FENIX is a video management platform capable of providing an adapted solution to every security project, thanks to its flexibility and modularity. This solution offers data analytics providing operation support and facilitating business decision- making, maximizing the benefits of video technology.
SCATI FENIX offers an easy and intuitive operation, which makes it the ideal tool for daily-basis management of your video security system.
The integration of technologies and advanced products allows for an effective and efficient centralized management. It not only offers features related to just video surveillance, but also others such as face recognition, plate recognition, alarm management and many others.
OVERVIEW. Advances Features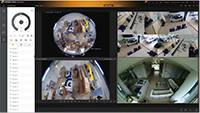 Video stream dynamic adjustment according to the available bandwidth and the drawing surface in the virtual matrix
Efficient management and display of fisheye cameras, with multiple intuitive modes and PTZ navigation.
People counting statistics with associated reports.
Heatmap generation that offers information about clients and employees' behavior.
Thermal management with reports of minimum and maximum detected temperature.
Queue management graphics with information about the number of people queueing and average time spent.
Advanced e-map or GIS management, with interactive icons of cameras or sensors, enabling real time display of the cameras from the map.
Recording in the camera SD and synchronization of the video in the camera with its recording platform once the network connection has been reestablished.
Inverse video sensor, which allows an analysis of an specific time interval of the recording, in order to look for an specific event (line crossing or intrusion).
Continuous remote access
Thanks to an App developed for any portable device, SCATI FENIX users benefit from a 24x7 connection to its security system, allowing them to see real-time and recorded video when an alarm is triggered.
Open platform
The SCATI FENIX solution is compatible with SCATI EYE cameras and recording platforms offered by SCATI, enabling the maximum level of integration. SCATI FENIX also integrates with other ONVIF devices. Furthermore, SCATI can provide to its clients a complete SDK, allowing third-party integration when required.
Adittional modules

Centralized people database
Centralized distribution of people lists to face recognition cameras. Automatic updating of those lists when there are changes on them.
Black /White alarm list.
Forensic search in recorded video of an specific person, either by photo or by name.
Mass import of users to the database.

Multi-screen display in the control center.
Screen usage in cooperative mode (one group of screens act like just one) or roaming mode (pop-up window that is shown over several screens regardless of their physical separation).
Real time events and alarm management.

Control of vehicle access through license plate recognition.
Alarms by time, hour and plate number.
Centralized management of black and white vehicle lists.
Plate recognition based on a specific list for barrier opening /non opening.
Smart searches based on plate number.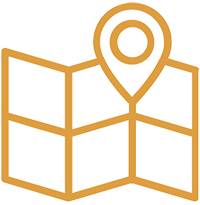 Management of on-board recorders specifically designed for on-board scenarios, such as PVR and body cameras.
GPS positioning in SIG map of all vehicles and employees. Live viewing and route data log.
Automatic video download over a centralized storage when detecting WIFI signal.
Intelligent alarms based on GPS data (detours from the predefined route, entrance in a predefined area or excessive speed).