A comprehensive and customized IP video solution for any security project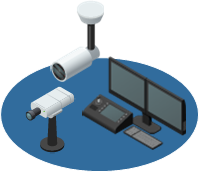 SCATI offer an IP video platform able to offer a comprehensive and customized solution for any security project. For this, SCATI has its own R&D department capable of customizing its solutions and integrating them with other third-party platforms.
With an easy configuration and guaranteed operability, the SCATI video platform is scalable and flexible, which allows significant saving in future investments.
SCATI design its platforms based on the last technology in Business Intelligent and provides analytical data (transaction analysis, people counting, heat map, etc.) for operational support and business decision-making, using 100% video technology.
Focused to the needs of the market and committed to its customers, SCATI develops two video management solutions that cover the needs of each of its clients: SCATI FENIX and SCATI VISION.

SCATI FENIX is and end-to-end solution designed for the video management of transport, critical facilities, retail, etc.
Flexible and modular, SCATI FENIX adapts to the specific requirements of each project incorporating the latest technology on the market (H.264 / H.265, audio recording synchronized with the video, failover 24/7, etc.)

With more than 50 clients in banking, SCATI, manufacturer of video management systems, is consolidating itself as a reference in offering comprehensive solutions in video-surveillance in Spain and Latin America for financial institutions.
Our experience in the banking sector leads us to develop proactive and specialized video solutions capable of adapting to the particular needs of each bank and the demands and regulations of the environment (regulations and laws, corporate changes, etc.).