Recognize and use purchasing patterns to your advantage
Every day, retail is confronted with losses which have direct repercussions on the profitability of the business and is detrimental to their inventory/stock due to theft, shrinkage and false claims.
To prevent such offences, SCATI provides the user with a comprehensive security system which gives the user (private security agent, manager, etc.) a straightforward platform which allows them to manage captured images locally.
This security solution also makes it possible to manage different branches of the same chain from a single control centre.
The retail of the future. Video Business Intelligence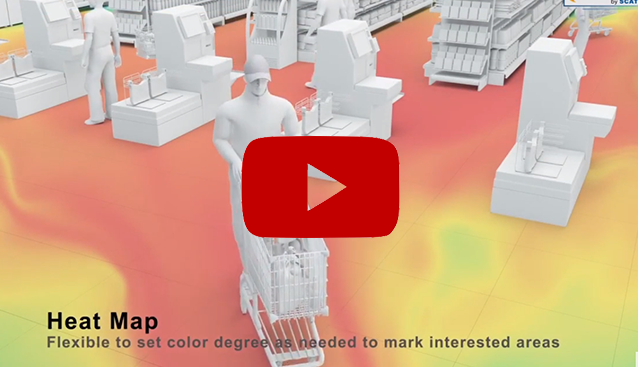 Video systems do not only detect suspicious patterns for theft prevention, but also have become the perfect tool for analyzing client behaviour and thus evaluating the effectiveness of marketing campaigns.
SCATI's IP video platform goes one-step further and is capable of providing information which facilitates day-to-day management of different departments of the company such as marketing, operations and HR.
In this way, the director of security is not the only one who can make use of the video capabilities, transforming the video surveillance system itself into an investment.
Why choose SCATI?

Comprehensively manage the security of your facility:
Protection at access points. Facial recognition and people counting.
Shelf and aisle monitoring.
Immediate detection of incidents with intelligent video analysis.
Integration in other security systems.

Manage points of sale:
Integration in POS: transactions are aligned with the recording, which allows you to search through video in an efficient manner.
Queue management camera for monitoring wait times, no. of people, etc.

Identify potential process optimisations thanks to video capabilities:
Reduce internal and external theft and administrative errors.
BI through heat maps for identifying client interests and occupations.
Wait times at the tills.
Company policies: IT and operational security.

Monitor incidents:
Shoplifting and theft, inventory shrinkage.
Acts of vandalism and material damage.
Prevent fraudulent allegations.