The SCATI solution for on-board environments provides video monitoring and management of thousands of cameras in dynamic environments and also provides a complete platform for fleet management and control thanks to the inclusion of artificial intelligence on its platform.
The high image resolution and stability of the cameras installed in these types of environments allow for perfect identification of the offence. This type of camera and recording equipment comply with strict certified quality standards.
FENIX, SCATI's IP video platform designed for large-scale security projects, includes the SCATI FENIX MOBILE module for managing video recorders on board vehicles.
SCATI FENIX MOBILE displays captured images originating from any vehicle in real time, allowing video to be automatically downloaded to a centralised storage space via 3G/4G/Wi-Fi while ensuring secure data transmission.
The powerful SCATI FENIX PRO Mobile software offers real-time GPS tracking of vehicles, provides a history of the routes taken and even creates alerts in real time through alarms if the vehicle deviates from the route, leaves its area of influence or exceeds the permitted speed limits.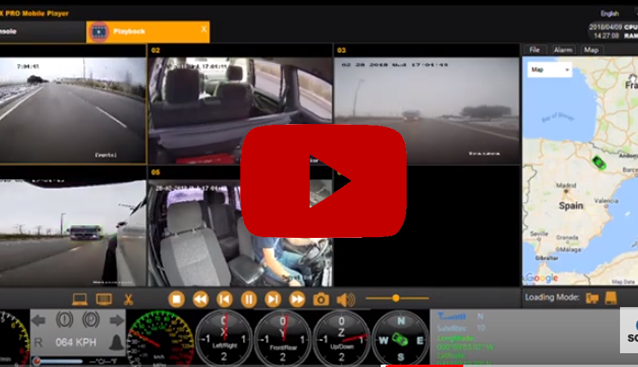 SCATI's video platforms incorporate deep learning algorithms (artificial intelligence) through which the platforms provide valuable information about the status of the vehicles, facilitating decision-making in real time in order to improve efficiency.
The tool provides data for decision-making purposes, including the kilometres travelled by each vehicle, the time taken to travel a determined route and 3G/4G data usage.
The control centre is used to configure alert notifications, associated video recordings and their subsequent management for resolving any incidents that may have occurred.
Why choose SCATI?

Real-time monitoring and management of your fleet of vehicles and its merchandise/passengers.
Monitor drivers (adherence to the route, speed, time taken, etc.).
Optimise established routes.
Open-integration platform which allows pro-active monitoring of third-party subsystems.
Increase passenger and employee safety in transportation mediums and vehicles.
Reduce monetary losses and avoid bad PR from false claims.
Information about the environment in which the vehicle operates for public safety purposes