Facial Recognition Systems
FACIAL RECOGNITION SYSTEM
KNOW THE PROFILE OF YOUR VISITORS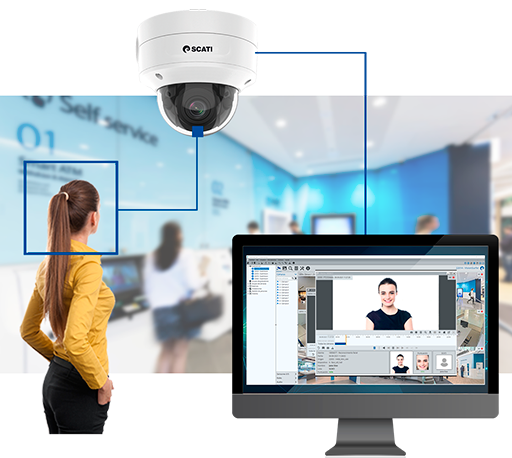 Today it is considered the most natural of all biometrics, and is that we do not recognize ourselves by looking at our fingerprints or iris, but by looking at our face.
The incorporation of facial recognition algorithms in video surveillance systems opens up a world of possibilities, both for security and for the operation of a business.
Facial recognition systems detect, identify and process images of individuals, while making them "anonymous" by transforming them into sequences of zeros and ones, in order to exploit the information from the captured images to the maximum.
With SCATI, thanks to this technology, you will be able to segment the profile of your public by gender and age, identify your VIP clients and offer them a differential treatment. It will also be possible to control the access of your employees and visitors, authorizing or denying access to certain areas or others, or even prevent identity theft anonymously. All of this in compliance with current data protection regulations.
Do you want to have information about who accesses your facilities?

Open, comprehensive and scalable
Incorporate as many facial recognition devices as you need. Your needs may change, but you can manage everything from a single video platform.

Centralized management
The system allows you to create, update and manage databases centrally to simplify daily operations.

Proactive system
When a person is identified, the security officers will receive an automatic alarm with the associated image or video, and the corresponding action protocol will be activated.

Advanced Forensic Search
Locate any person in seconds through advanced search filters (faces, names, IDs, etc.) or reference images. Get all the information about your accesses and exits of the facilities.

Bidirectional
The communication between the control centre and the installations is bidirectional, so the information is fluid and updated automatically.

Business Intelligence
With the information collected, a business intelligence system is exploited, accessible by other departments of the organization. They will use the information to produce reports, improve security and business insight.
BODY TEMPERATURE AND MASK DETECTION
Complement your system with the latest in body temperature measurement and mask detection to ensure safe environments for infection prevention.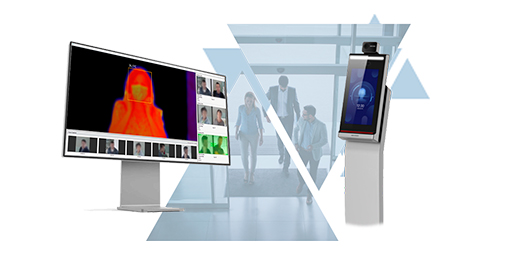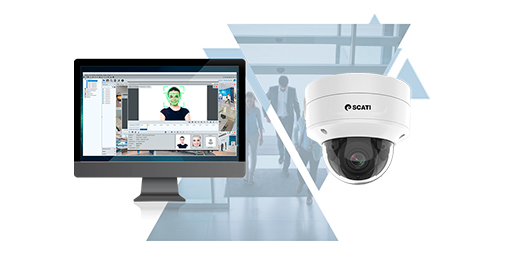 Discover our solutions for contactless access control based on facial recognition systems.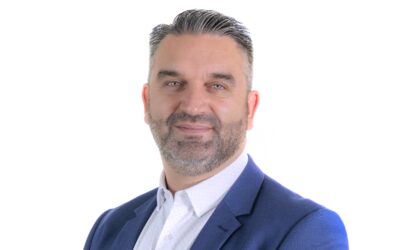 Toni Polo, Sales Director Spain and EMEA Region. SCATI With the e-Commerce boom, consumers today are more demanding. From any device connected to the network, they are able to compare features, prices, know the ratings of other customers and make a decision even...
Santander Bank Financial City (Spain)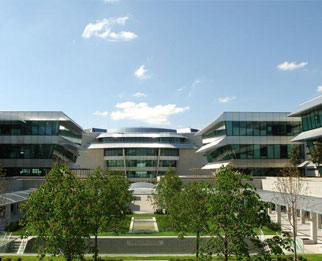 Access control by facial authentication in the corporate environment. The solution is completed with a body temperature measurement system and mask detection to allow access.
Excellence in hospital care (Mexico)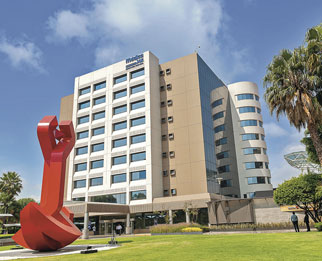 The systems identify patients in order to offer them more personalized and differential care.
Combat identity theft in branches (Mexico)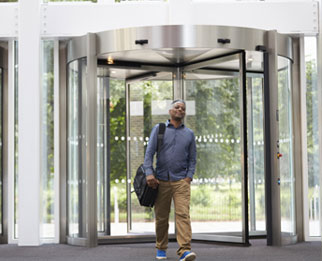 The system detects persons entering its branches so that, if they have previously committed illegal acts, a notification is sent to the control center.
"Gracias SCATI por este reconocimiento de mi parte y a nombre de Telefónica México. Hemos construido una historia de trabajo de más de 12 años trabajando juntos. Invito a que SCATI continúe siendo, no solo una marca, sino un referente de experiencia en el ámbito de la seguridad."
"Torre de Collserola apuesta por los fabricantes nacionales. Consideramos que la calidad, el servicio y el conocimiento del entorno es algo fundamental y por eso escogimos a Scati. El valor diferencial de SCATI es su implicación, ser resolutivos, siempre están ahí, cualquier necesidad la intentan cubrir lo antes posible, nos escuchan y comprenden, y eso, no es tan fácil de conseguir."
"Scati nos permite enfrentarnos con éxito a proyectos complejos donde la integración y la personalización son clave para nuestros clientes".
"Apostamos por ofrecer soluciones de seguridad que requieren sistemas estables y escalables que minimicen el factor humano y ayuden en la toma de decisiones y SCATI nos permite ofrecer soluciones que satisfagan el creciente mercado de la Inteligencia Artificial y las tecnologías de aprendizaje profundo".
"Elegimos desarrollar y trabajar en esta asociación con SCATI porque conocemos la marca desde hace algunos años y tenemos la credibilidad y la calidad para cumplir con grandes proyectos en muchos verticales diferentes, entre ellos están: la hospitalidad, la logística, la industria, la banca, los complejos comerciales, los puertos y los aeropuertos".
"Ante cualquier incidencia, los responsables de seguridad son capaces de localizar y visualizar el recorrido de cada uno de los paquetes donde perdió su pista. La solución de SCATI al ser multiplataforma, es decir capaz de centralizar las grabaciones de todas las plataformas logísticas, permite resolver al 100% cualquier incidencia independientemente de la plataforma en la que ocurrió".