Improve the Customer Experience and increase your income
Video Surveillance Solutions for Retail and Service Stations
SECURITY SYSTEMS FOR THE RETAIL SECTOR AND SERVICE STATIONS
TRANSFORMING NATIONAL TRADE
With the advent of the internet, consumers today are much more demanding than they were just 5 years ago.
From their mobile phone and from any location, they are able to compare features between products or prices, and know the valuations of other customers.
Despite this trend to the digital world, brands want to remain close to the consumer, so their efforts are aimed at creating an omnichannel strategy in which e-commerce and traditional establishments coexist. Those must become spaces in which to offer "unique experiences" in which customers are the "centre of the universe".
Technology is redefining this shopping experience and allowing brands to know their customers and their consumption patterns, to the point of even predicting their purchase intentions. Specifically, Artificial Intelligence, the collection and interpretation of data (Big Data), are the basis for offering unique and increasingly personalized experiences to the user.
Attract more customers and understand their behavior, minimize checkout wait times and optimize point-of-sale layout to deliver a unique experience that builds loyalty and increases revenue.
Video surveillance systems not only ensure the security of your assets and prevent shrinkage or fraud, they also allow you to analyze consumer behaviors to maximize the profitability of every square meter of your store.
Are you ready to transform your commerce into a unique experience?

Full protection
Retail needs a single solution to ensure end-to-end security for its entire supply chain, from distribution centers to points of sale. One of its objectives: to reduce theft, fraud or fraudulent claims.
Does your current video system allow you to ensure end-to-end security from a single platform?

Improve customer service
Offering a unique user experience is the best weapon to increase your sales.
Does your video system allow you to get information about your customers and their behaviors?

The power of data
Video Business Intelligence allows you to process data from your CCTV systems, providing a cross-cutting tool for business decision making.
Does your video system provide information to reduce uncertainty and make good decisions?
Video solutions for retail and service stations
More than 25 years creating "turnkey projects" for retail allow us to offer video solutions that go beyond the physical protection of shops.
Manage all video devices from our platform and fully exploit all information from all systems to improve your customers' experience and maximize your business profitability.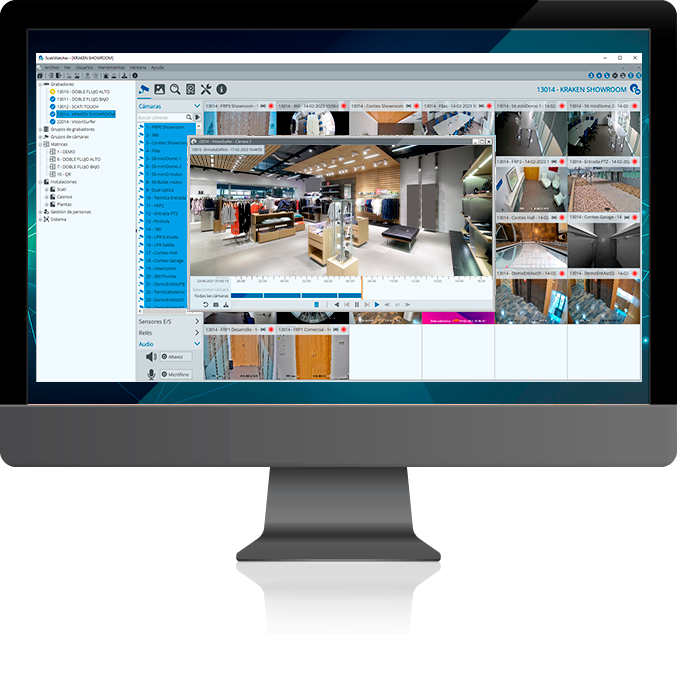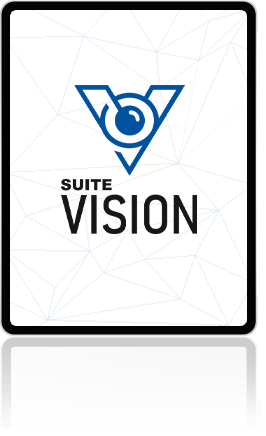 Comprehensive, open and scalable solution
Manage all devices from a single VMS platform and expand your system at any time without additional investment.

Local and centralized management of establishments
View and manage devices, monitor system-wide status, and facilitate investigations from one place at any time.

Video integration with Transactions
Put a face to point-of-sale transactions and provide tangible evidence for fraud prevention. The system is automatic and proactive and alerts you when something needs your attention so you can focus on what really matters.

Forensic search and preventive management
Use advanced search tools to locate any person or vehicle and reduce forensic time and costs for rapid response.

Get information from your customers
Know the behavior of your users, establish consumption patterns, and evaluate the results of your commercial actions thanks to the information collected by your video system.

Business Intelligence
Your system will collect and simplify all the information coming from your users and their behavior patterns.
Can you imagine optimizing your management by making decisions based on objective data collected by video surveillance systems?
Video Surveillance in Retail
Adding value to your business
SCATI's video surveillance systems guarantee the security of your facilities, but also allow you to optimize the distribution of your business, optimize the minimum stock, know the behavior of your customers and maximize the profitability of your investment.
Our VMS SCATI VISION will allow you to improve your processes, resolve any incident in record time and optimize the allocation of your resources thanks to the incorporation of Artificial Intelligence in your systems.
The incorporation of Artificial Intelligence in our video systems makes them a transversal and necessary tool for any company.
Data, measurements and information from video surveillance systems can be used by other areas of the company to optimize procedures, improve customer knowledge or increase turnover.
Discover how video technology enables you to ensure security, optimize your resources and maximize the profitability of your facility.

Security/IT
Maintain control of the security of all your facilities and provide tools for your team to respond quickly to incidents.

Logistics
Improve and streamline processes, resolve any issues and ensure full traceability of goods.

Commercial Marketing
Know your customers, detect their consumption patterns and offer them the best experience to increase sales.

Shopping
Optimize stocks and procurement orders thanks to intelligent inventory management.

HR.
Establish shifts and schedules of your employees according to the production needs of each moment.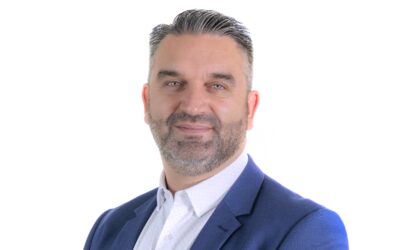 Toni Polo, Sales Director Spain and EMEA Region. SCATI With the e-Commerce boom, consumers today are more demanding. From any device connected to the network, they are able to compare features, prices, know the ratings of other customers and make a decision even...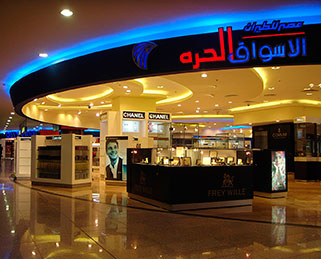 Protección centralizada de tiendas duty-free en aeropuertos Egipto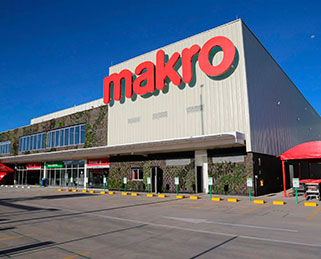 Protección local y centralizada de grandes almacenes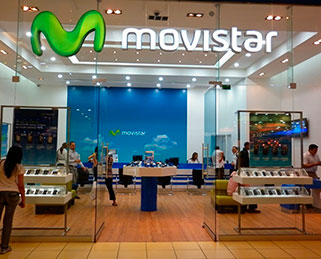 Gestión centralizada de más de 100 centros de atención al cliente con ancho de banda limitado.
Those who have already trusted us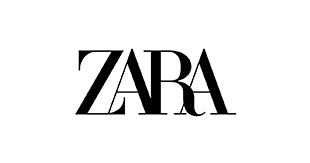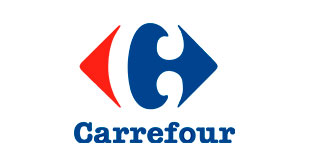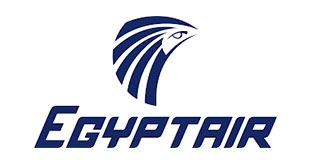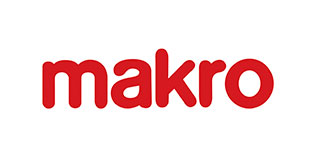 "Gracias SCATI por este reconocimiento de mi parte y a nombre de Telefónica México. Hemos construido una historia de trabajo de más de 12 años trabajando juntos. Invito a que SCATI continúe siendo, no solo una marca, sino un referente de experiencia en el ámbito de la seguridad."
"Torre de Collserola apuesta por los fabricantes nacionales. Consideramos que la calidad, el servicio y el conocimiento del entorno es algo fundamental y por eso escogimos a Scati. El valor diferencial de SCATI es su implicación, ser resolutivos, siempre están ahí, cualquier necesidad la intentan cubrir lo antes posible, nos escuchan y comprenden, y eso, no es tan fácil de conseguir."
"Scati nos permite enfrentarnos con éxito a proyectos complejos donde la integración y la personalización son clave para nuestros clientes".
"Apostamos por ofrecer soluciones de seguridad que requieren sistemas estables y escalables que minimicen el factor humano y ayuden en la toma de decisiones y SCATI nos permite ofrecer soluciones que satisfagan el creciente mercado de la Inteligencia Artificial y las tecnologías de aprendizaje profundo".
"Elegimos desarrollar y trabajar en esta asociación con SCATI porque conocemos la marca desde hace algunos años y tenemos la credibilidad y la calidad para cumplir con grandes proyectos en muchos verticales diferentes, entre ellos están: la hospitalidad, la logística, la industria, la banca, los complejos comerciales, los puertos y los aeropuertos".
"Ante cualquier incidencia, los responsables de seguridad son capaces de localizar y visualizar el recorrido de cada uno de los paquetes donde perdió su pista. La solución de SCATI al ser multiplataforma, es decir capaz de centralizar las grabaciones de todas las plataformas logísticas, permite resolver al 100% cualquier incidencia independientemente de la plataforma en la que ocurrió".