IP Video Surveillance Cameras – SCATI EYE
Wide variety of IP Video Surveillance Cameras. High image quality and easy installation.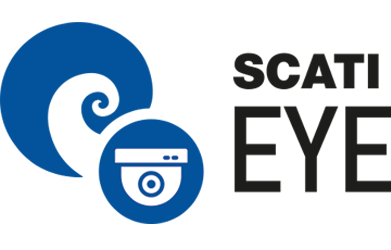 No matter what is the objective, our SCATI EYE cameras always offer you excellent image quality thanks to their multiple designs and features, adapting to any environment even in the most adverse conditions.
In compliance with ONVIF standards, we have a wide range of options to meet the specific needs of each environment.
From the most discreet pinhole cameras, to multi-sensor panoramic cameras designed to cover large areas or even those capable of withstanding the most extreme environmental conditions.
For those who want to make the leap to the IP world gradually, we have a line of hybrid cameras that allow you to continue using the existing coaxial cabling increasing the quality of the image obtained and, in the future when the transmission infrastructure is changed to IP networks, use the cameras in IP mode.
We have cameras that incorporate various intelligent analytics capable of performing facial recognition, temperature measurements, counting people, managing capacity, reading license plates, etc. with the aim of generating events or alerts immediately in order to verify the situation that caused it.
Beyond security, our SCATI EYE cameras generate and send metadata with information extracted from the implemented analytics, which, through management using Big Data and Business Intelligence tools such as SCATI RECKON, provide very valuable management indicators so that your company can develop comprehensive dashboards for decision making.

SCATI EYE IP – VIDEO SURVEILLANCE CAMERAS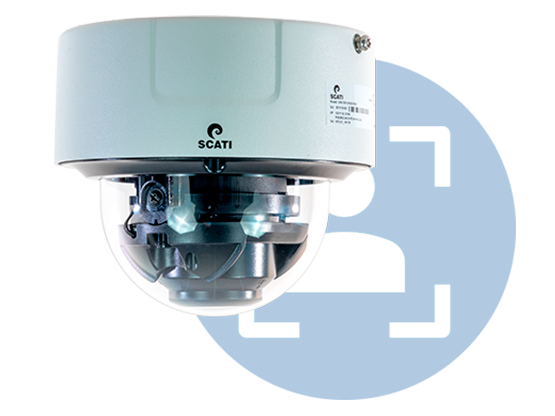 SCATI EYE Intelligent Series cameras provide the ability to bring all the work of intelligent video analysis to the edge, avoiding the placement of expensive centralized AIV servers and software and isolating itself from possible network unavailability.
With options for facial recognition, license plate reading, waiting time measurement, heatmap or people counting, our Intelligent Series makes advanced functionality accessible to all users.
In addition to being able to generate real-time alerts, they generate metadata to be exploited by our Business Intelligence solutions.
SCATI EYE 4K Series cameras give you the highest quality images to view every detail with maximum clarity, thanks to resolutions four times higher than Full HD 1080p.
In bullet, minidome or PTZ formats, these cameras record and monitor large areas and manage to capture all the details, even after zooming in on images that previously appeared pixelated or barely defined.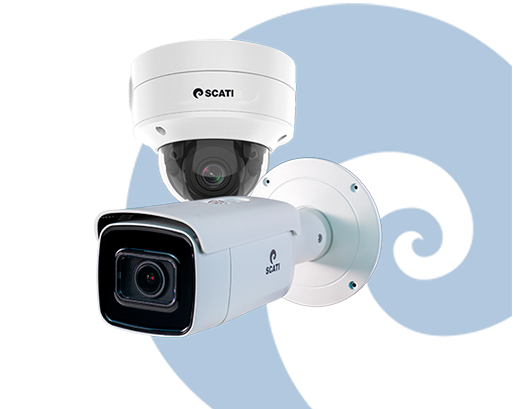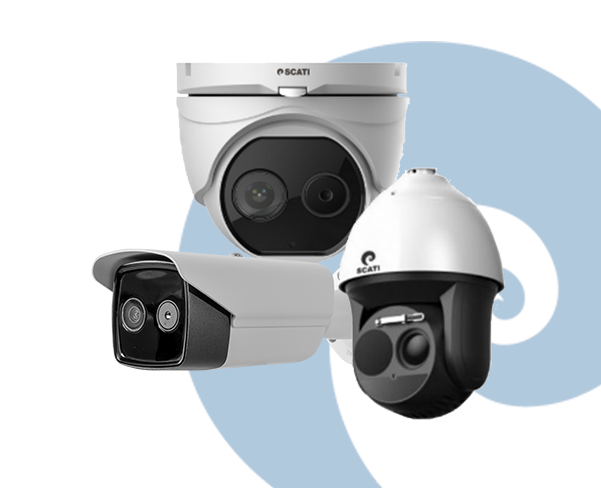 When lighting or environmental conditions prevent visible spectrum cameras from being useful, SCATI thermal cameras are the solution.
Whether for perimeter protection (ports or airports), monitoring industrial processes that handle high temperatures (mining or smelting) or for early detection of potential fires, all our cameras in this series have dedicated video analytics.
Specially designed for professional surveillance of large areas, they offer from the widest views to the smallest details thanks to their great zoom capacity, being manufactured to withstand the most aggressive environmental conditions.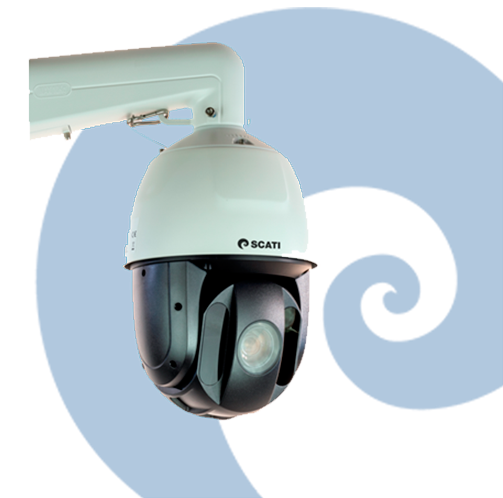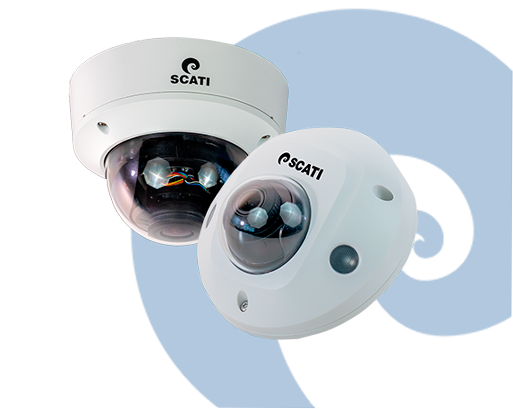 This series is characterized by a robust design and offer great image sharpness in low light environments.
Some models feature long-range infrared, the perfect solution for those who want to see what's going on both day and night.
With fixed or varifocal lens options, analog, hybrid or IP cameras are available.
Compact in size and with fixed or varifocal lens options, these cameras offer great image quality.
Some models feature long-range infrared, the perfect solution for those who want to see what's going on both day and night.
Within the Compact Series we have analog, hybrid or IP camera options.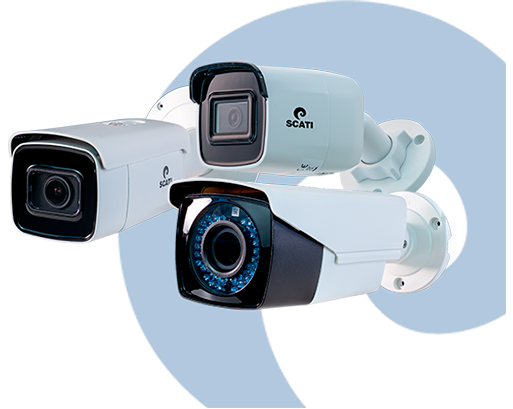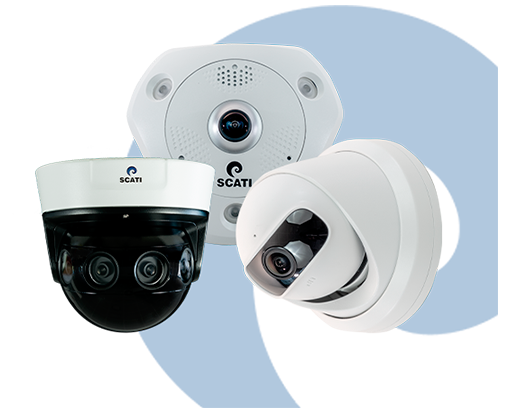 From cameras with a single 180º wide-angle lens, fisheye covering 360º, to multi-sensor cameras covering 180º, 270º or 360º, this series has been designed not to lose detail of what is happening in your facilities.
We have specific application cameras for use in very specific scenarios, as can be reduced environments such as ATMs or places of risk, where they work with explosive or corrosive materials to avoid endangering people.
Make use of ultra-rugged cameras, but don't neglect image quality.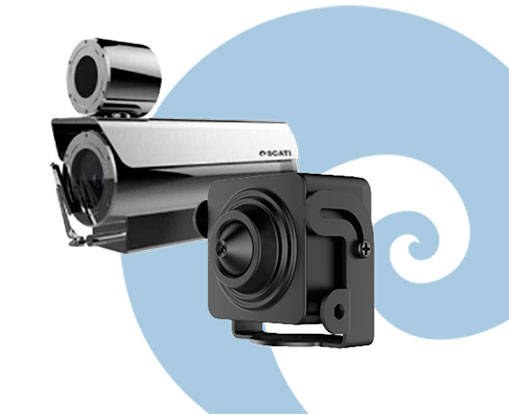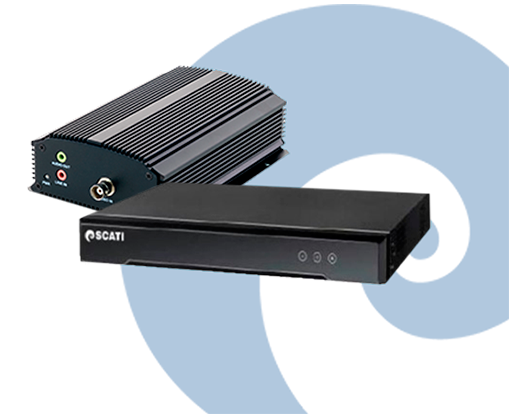 Our encoders are the ideal solution for a gradual migration from legacy analog to an IP recording solution.
Extend the life of those high-resolution analog cameras that still have a lot of important footage to record.

END TO END SOLUTION
Get the most out of our cameras by using them in conjunction with our recording systems and VMS.

FLEXIBILITY
Manufactured according to ONVIF standards, which allows its management through third party VMS.

SAFE
Designed under the most demanding cybersecurity requirements.
THOSE WHO HAVE ALREADY TRUSTED US
"SCATI security cameras stand out for their reliability, quality and durability, in addition to having a very wide catalog to choose from among HD Dome cameras, 4k cameras and special cameras (onboard, thermal, ATEX, etc.). These cameras have artificial intelligence for video surveillance which is a very important point in the field of security today."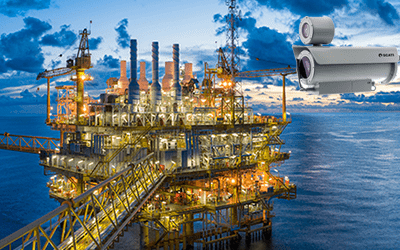 ATEX-certified video surveillance camera for the protection of installations with potentially explosive atmospheres.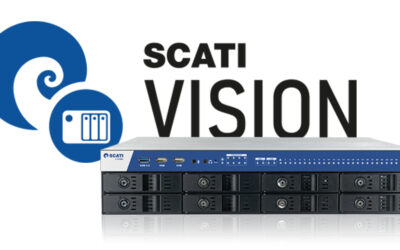 SCATI, manufacturer of intelligent IP video solutions incorporates the K series in its portfolio of video recorders.    Based on IP technology and within the VISION SUITE, this equipment has an integrated PoE switch with up to 24 PoE ports, to facilitate the...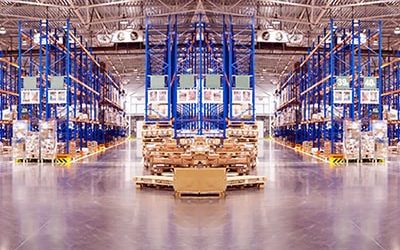 Panoramic cameras offer a larger field of view than any conventional camera and are especially useful for monitoring large areas, resulting in significant savings in resources. SCATI, manufacturer of intelligent video solutions, adds to its catalog a new 180º...