Access Control – Contactless System
Video access control system
ACCESS CONTROL SYSTEM
ENSURING SAFE ENVIRONMENTS
The system combines facial recognition analytics, body temperature monitoring and mandatory facemask use to allow safe access for users, whether they are workers or visitors.
It is a contactless system capable of identifying people and measuring their body temperature at a distance of up to 2 meters quickly, accurately and safely.
With the capacity to manage a database of up to 50,000 records, the system restricts access to the user if any of the conditions are violated and sends an automatic alarm to the control center so that operators can respond quickly.

Comprehensive, open and scalable solution
Manage systems from a single VMS platform and add as many devices as you need at any given time.

Centralized and remote management
Collect all the alerts received (via email or pop-up) and the history of user accesses and exits.

Different terminal models
It can be installed on the wall, on windlasses or on an independent totem, in order to adapt to each scenario.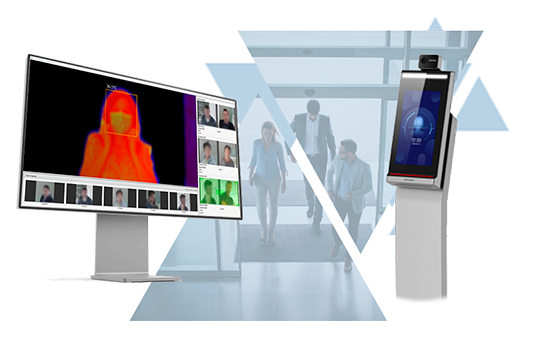 BODY TEMPERATURE AND MASK DETECTION
Complement your system with the latest in body temperature measurement and mask detection to ensure safe environments and prevent contagion.
"Gracias SCATI por este reconocimiento de mi parte y a nombre de Telefónica México. Hemos construido una historia de trabajo de más de 12 años trabajando juntos. Invito a que SCATI continúe siendo, no solo una marca, sino un referente de experiencia en el ámbito de la seguridad."
"Scati nos permite enfrentarnos con éxito a proyectos complejos donde la integración y la personalización son clave para nuestros clientes".
"Apostamos por ofrecer soluciones de seguridad que requieren sistemas estables y escalables que minimicen el factor humano y ayuden en la toma de decisiones y SCATI nos permite ofrecer soluciones que satisfagan el creciente mercado de la Inteligencia Artificial y las tecnologías de aprendizaje profundo".
"Ante cualquier incidencia, los responsables de seguridad son capaces de localizar y visualizar el recorrido de cada uno de los paquetes donde perdió su pista. La solución de SCATI al ser multiplataforma, es decir capaz de centralizar las grabaciones de todas las plataformas logísticas, permite resolver al 100% cualquier incidencia independientemente de la plataforma en la que ocurrió".