Zaragoza, July 6th, 2022
Jean Pierre Alfonso Mojica, based in Colombia, joins the team as Regional Key Account Sales Manager & Business Developer to serve the company's current clients and develop new business opportunities in the Andean Region (Colombia, Ecuador, Peru).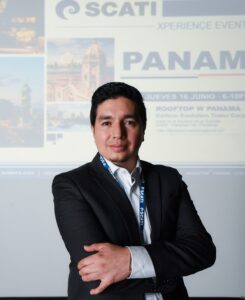 Jean Pierre studied Electronics and Telecommunications and is currently pursuing a specialization in software development as a Full Stack Tech Developer.
He has 18 years of professional experience in the Electronic Security market, occupying technical, managerial, commercial, engineering and support positions. The last 9 years he has focused on regional consultative sales for LATAM in VMS, access control, video analytics and building integration and automation manufacturers, which has allowed him to acquire a detailed vision of the market in the Andean Region.
Jean Pierre emphasizes that, with the constant evolution of the electronic security market, it is becoming more dynamic and demanding: "software must begin to adapt to the needs of our customers in an agile and efficient way, and not find ourselves still customers adapting to the software; this is my main motivation to study software development and start a new stage with the SCATI team".
Welcome to the team!