The economic crisis generated by the pandemic aggravates a situation that was already delicate due to the effects of the new European environmental regulations and that places the automotive industry in full technological transformation towards electrification.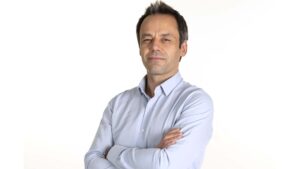 With almost 2.27 million vehicles manufactured in 2020, Spain is the second largest producer in Europe and the eighth largest in the world. The keys to success are investment in continuous innovation and the automation of production plants, which allow us to generate greater production, make the most of resources and optimize time.
In this technological transformation, video systems are playing a key role.
With the incorporation of Artificial Intelligence (AI) in video surveillance systems, cameras monitor the automation of processes, detect and prevent failures, verify quality control, geolocate and visualize assets in continuous movement and, in parallel, collect metadata associated with the images. Data that, thanks to Big Data tools, is transformed into valuable information to generate dashboards and graphs that facilitate decision making.
This article aims to collect some of the main applications that our customers make use of intelligent video systems in their production processes.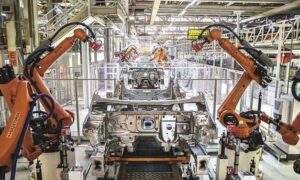 Video systems are the key to guarantee excellence in production processes.
Integrated with the usual management systems, they are able to detect an incident (stoppage or breakdown of a machine) and alert the control center in real time to resolve the incident in the shortest possible time.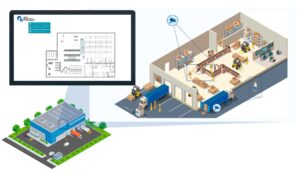 Video systems are capable of performing inspections in the manufacture and assembly of all parts of a vehicle, thus detecting defects in stamping, machining, presence of components, paint quality, metrology between body parts or alignment of doors, among many others.
In addition to capturing images of the production process, the video systems collect the information associated with each good (shipment number, origin, destination, dimensions, etc.) and store this information in the system, ensuring traceability.
Video is a versatile tool that can be integrated with other QR code or bar code scanning systems to complete process monitoring. Video systems are searchable by collected metadata,visualize the path of each merchandise and locate any time and the associated image.

"Intelligent" video surveillance systems are integrated with geolocation and traffic control software (AGV – Automated Guided Vehicle) and track and trace thousands of assets (operators, mechanical bulls, pallets, etc.) with high accuracy and visualize the images captured by the cameras in real time.
Video is a tool for innovation due to the great versatility it offers when it comes to solving any problem and makes a competitive difference compared to other companies in the sector.