LOCATE GOODS IN REAL TIME – SCATI TRACKER
Control of a company's assets with video
VIDEO SYSTEM FOR MONITORING AND CONTROL OF MOBILE ASSETS
There are assets that, either because of the economic value they represent or because they are essential to continue with the production process, we need to know where they are at all times (mechanical bulls, barcode or RFID reader guns, operators, pallets, etc.).
SCATI TRACKER integrates our video system with a state-of-the-art indoor geolocation system to locate any merchandise in real time and with maximum precision.
Through the application, all mobile assets are located and visualized in real time on a map with maximum precision and automatic alerts are received in case the tags associated with the assets invade a restricted area or may pose a danger.
Can you imagine knowing where all your assets are at all times?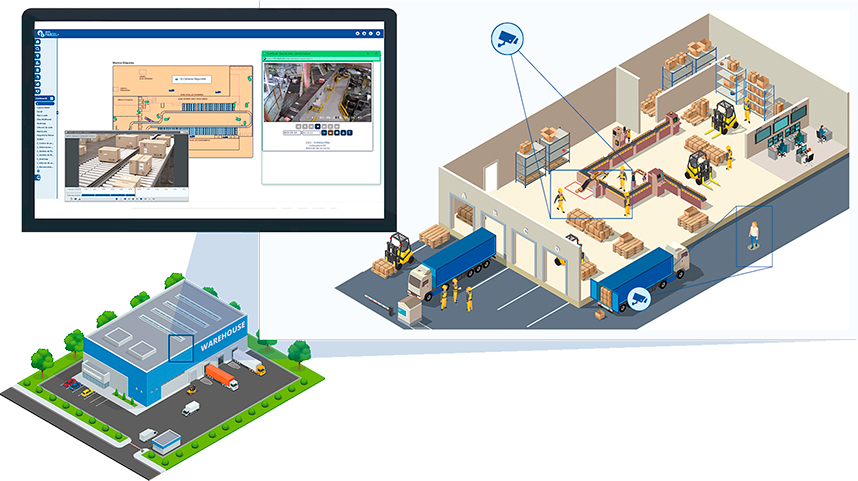 Mobile Asset Monitoring
By means of a system of antennas and tags, the positioning of all the assets is obtained in real time. This information is converted into coordinates that locate the assets on the installation plan.

Geolocation and real-time visualization
Each antenna delimits a control area on the stage, and a specific camera is assigned to it. Communication and synchronization of the video system with the warehouse management system is continuous.

Search for associated images and video
Locate and visualize in real time your assets, placing them in the precise place where they are.
Get the history of their movements and receive automatic warnings if they enter restricted, dangerous or unauthorised areas, etc.

Integration of maps and plans
SCATI TRACKER allows the incorporation of customized plans for each client to make the location of assets even more agile and intuitive.

Multiplatform management
The system allows centralized management of multiple locations. This facilitates centralised searches for a specific warehouse, for all warehouses or for groups of warehouses; these groups can also be customised.

Business Intelligence
Get information on each asset: areas travelled and distances travelled, speed, zone encroachment, periods of activity and inactivity, etc.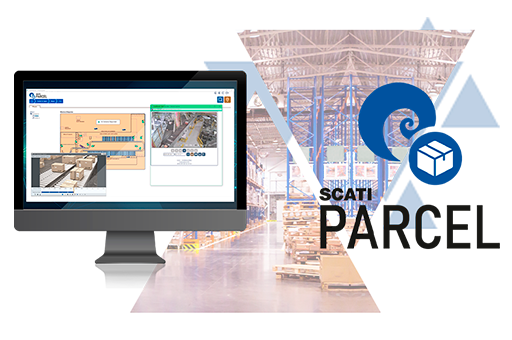 In sorters or sorting belts in distribution centres, video systems monitor and record automatic sorting, picking, etc. processes.
Together with the image capture performed by the cameras, SCATI PARCEL integrates with the client's warehouse management systems to obtain metadata with the information associated with each item (dispatch or tracking number, origin, destination, dimensions, etc.). This information is presented in a unified form to the user making the queries.
With SCATI PARCEL, the user can search by the data of interest associated with the packages, view the routes of each one of them and locate the exact moment at which the incident originated in the sorter; all this, by a quick and direct access to a visual check of the recorded video.
FLEET CONTROL OF VEHICLES
Transport is the weak link in the supply chain. We offer you an in-vehicle video solution so you know what's going on, even from thousands of miles away.
Video technology and improved communications make it easier to monitor what is happening inside and outside each vehicle. Receive a warning, along with images of the vehicle, if you deviate from your route, leave your authorized transit area or exceed the permitted speed limits.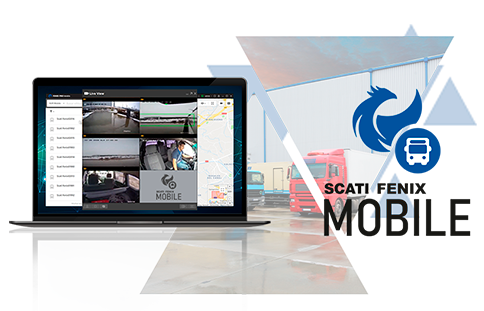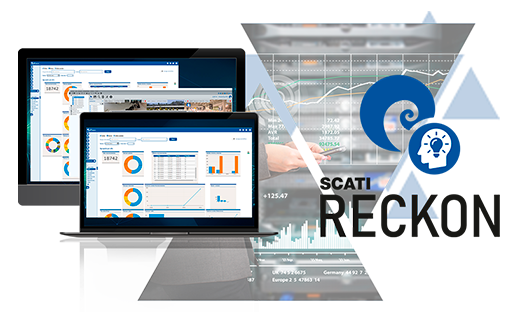 SCATI RECKON allows the creation of customizable dashboards or reports adapted to the user's management and operation needs.
In addition, SCATI RECKON allows integration with other BI systems already existing in the company and the export of the information collected, so that it can be used by other users or analysis tools.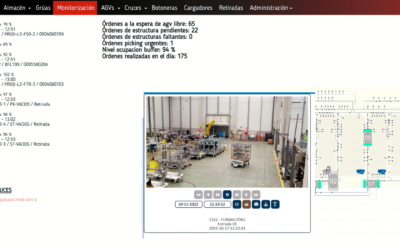 SCATI and Moontech team up to give MRA greater control of its facilitiesMRA (Módulos Ribera Alta) ) is a company that belongs to the CEFA group, dedicated to the manufacture of components for the automotive sector. Specifically, its Figueruelas plant manufactures the...
"Gracias SCATI por este reconocimiento de mi parte y a nombre de Telefónica México. Hemos construido una historia de trabajo de más de 12 años trabajando juntos. Invito a que SCATI continúe siendo, no solo una marca, sino un referente de experiencia en el ámbito de la seguridad."
"Scati nos permite enfrentarnos con éxito a proyectos complejos donde la integración y la personalización son clave para nuestros clientes".
"Apostamos por ofrecer soluciones de seguridad que requieren sistemas estables y escalables que minimicen el factor humano y ayuden en la toma de decisiones y SCATI nos permite ofrecer soluciones que satisfagan el creciente mercado de la Inteligencia Artificial y las tecnologías de aprendizaje profundo".
"Ante cualquier incidencia, los responsables de seguridad son capaces de localizar y visualizar el recorrido de cada uno de los paquetes donde perdió su pista. La solución de SCATI al ser multiplataforma, es decir capaz de centralizar las grabaciones de todas las plataformas logísticas, permite resolver al 100% cualquier incidencia independientemente de la plataforma en la que ocurrió".